YOGA Februari- lessen, workshops en meer
02 de maand van BALANS. Balans brengt evenwicht en stabiliteit, dat is mooi meegenomen in dit woelige politieke tijdperk. Diverse 4 weekse cursussen gaan van start, dus als je wil beginnen met yoga of als je meer verdieping in je practice wil, schrijf je in en doe mee. Workshops in het weekend, kortom let's share and grow!
ROOSTER Februari:
*Samana Yoga Center- Amsterdam
dinsdag 20.00- 21.30uur Vijnana Yoga 
vanaf 7/2 cursus Balancings 4 weken cursus
zaterdag 10.30- 12.00uur Vijnana Vinyasa
*Movement Studio Haarlem- Haarlem
maandag 18.30- 19.45uur Stress relief  & Tensegrity
maandag 20.00- 21.30uur Vijnana Yoga
let op: ma 20/2 geen les ivm krokusvakantie
donderdag 18.30- 19.45uur Beginners Yoga
donderdag 20.00- 21.30uur Vijnana Yoga
vanaf donderdag 9/2 nieuwe beginnerscursus
let op: do 23/2 geen les ivm krokusvakantie
meer info klik hier
*Deen- Heemstede
vrijdag 09.00- 10.00uur Vijnana Yoga

---
AGENDA
zaterdag 11 februari Handstand en Bakasana challenge
14.30-17.00uur Samana Yoga Center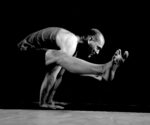 samen met Eveline Torres
Bakasana (spreek uit: bakáá-sa-na) betekent vogel in het Sanskriet.
Met de handen stevig op de grond en sterke armen kun je als een vogel je lichaam balanceren in de lucht. Verrassende houdingen die je veel energie geven en waar je vrolijk van wordt. Doe mee met deze challenge geschikt voor iedereen!
meer info klik hier
vrijdag 3 maart Vijnana Yoga Workshop
18.30-21.30uur Movement Studio Haarlem
samen met Cecilia Götherström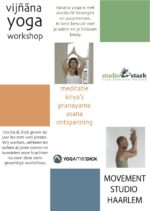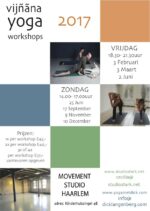 meer info klik hier
CU on the mat!
---
KUNST
Stedelijk Museum 2017: 100 jaar de stijl
In 2017 is het 100 jaar geleden dat De Stijl werd opgericht, de legendarische kunstenaars- en architectengroep rond Theo van Doesburg, Piet Mondriaan en Gerrit Rietveld. Dat wordt in Nederland door verschillende musea groot gevierd. Het Stedelijk Museum Amsterdam was de katalysator van de internationale doorbraak van De Stijl en beschikt over een van de grootste collecties van de beweging.


meer info klik hier