September- yoga, lessen, strand
Einde zomer, de herfst staat voor de deur, maar we kunnen hopelijk nog genieten van een lekkere nazomer. Geïnspireerd en vol energie gaan we van start -of door- met wellicht nieuwe doelen voor het nieuwe seizoen. Een mooie tekst uit de Tao:
Colors blind the eye.
Sounds deafen the ear.
Flavors numb the taste.
Thoughts weaken the mind.
Desires wither the heart.
The Master observes the world
but trusts his inner vision.
He allows things to come and go.
His heart is open as the sky.
uit de Tao Te Ching van Lao-Tze
————————–
SEPTEMBER SPECIALS
Yoga op het Strand
zondag 9 september
tijd 10.30-12.00uur
Zuidstrand naast Havana aan zee- Zandvoort aan zee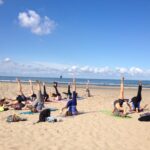 Bij mooi weer weer een heerlijke uitdagende en ontspannende yogales op het strand. Mis 'm niet het zou wel eens de laatste van het seizoen kunnen zijn.
————————–
LES ROOSTER
YOGA in Amsterdam
*Samana Yoga Center
zaterdag 10.30- 12.00uur Vijnana Vinyasa
note: 1/9 Summer City Retreat 10.00-13.00uur
nog enkele plekken vrij, geef je op!


YOGA in Haarlem
*Movement Studio Haarlem
maandag 18.30- 19.45uur Stress relief/ Tensegrity
maandag 20.00- 21.30uur Vijnana Yoga
donderdag 18.30- 19.45uur Vijnana Yoga Beginners
donderdag 20.00- 21.30uur Vijnana Yoga

YOGA in Heemstede
*Praktijk Deen- Spaarne Gasthuis
vrijdag 09.00- 10.00uur Vijnana Yoga

YOGA in Hoofddorp
*Yoga Centrum Hoofddorp
dinsdag 20.00- 21.15uur Vijnana Yoga
vrijdag 10.45- 12.00uur Stoelyoga
note: geen les 4/9 ivm verbouwing
————————-
————————-

Volg mij op Instagram: dicklangenberg