De zomer in aantocht, hogere temperaturen, mooi weer, naar buiten
zon- zee- strand en dus is het weer tijd voor: YOGA op het STRAND!
Je dag beginnen met je voeten in het zand, je blik op het water, de warmte van de zon op je huid, een zacht zomers briesje en het ruisen van de zee op de achtergrond. Bewegen op het ritme van je adem omgeven door natuur met een heerlijke Vijnana Yoga flow les. Een gevoel van vrijheid en eenheid met de elementen.
Na de les kan je genieten van een kop koffie, thee of iets lekkers bij een van de paviljoens. (niet inbegrepen)
De aftrap voor de uitdagende en ontspannende Yoga op het Strand 2019.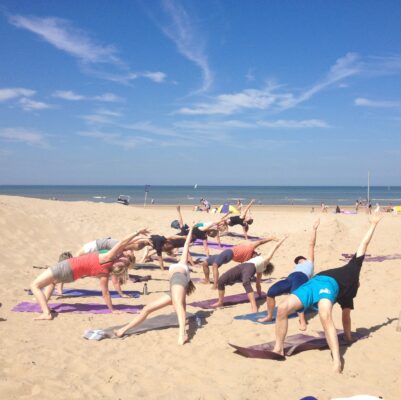 Locatie: Zandvoort aan Zee zuidstrand naast Havana aan zee
Datum: Zondag 30 juni 2019
Tijd: 10.30- 12.00 uur
Prijs: €17,-
Als je een mat hebt neem 'm mee of gebruik een handdoek
(leenmat +€1,- rsvp)
Aanmelden: info@dicklangenberg.com
Wat gaan we doen?
* kriya's en vayu's om schoon te maken en stress los te laten
* tekst als inspiratie voor de practice
* just sitting je lichaam ontspannen en je geest tot rust brengen
* pranayama ademoefeningen voor focus en concentratie
* asana practice in flow
* eind ontspanning

CU on the mat!