April- new reality. Tot 28 april is YogaStudio de Bels gesloten. Daarna wachten wij de instructies af, hopelijk zie ik je weer snel in real life en anders begroet ik je graag op ZOOM (zoom.us) voor een digitale les. Yogalessen van YOGAmetDICK gaan door zie het rooster hieronder.
Als je mee wil doen, stuur mij een mail info@dicklangenberg.com en dan stuur ik de codes aan jou door.

Dinsdag 7 april
19.00- 20.30uur Vijnana Yoga
Woensdag 8 april
9.30- 11.00uur Tensegrity- Stress Relief
Donderdag 9 april
19.00- 20.30uur Vijnana Yoga & Tensegrity
Livestream lessen dus niet van tevoren opgenomen.
Een bijdrage of donatie is welkom.
Blijf ademen, blijf bewegen, stay in touch.
Dit is een kunstwerk waar ik aan moest denken.
Nam June Paik, TV-Buddha, 1974.
Collectie Stedelijk Museum Amsterdam.
Foto: Stedelijk Museum Amsterdam.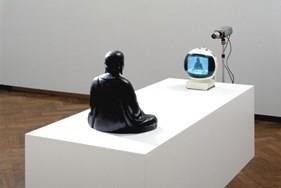 CU on the mat!
Een mooi gedicht voor deze bijzondere tijd:

"And the people stayed home.
And read books, and listened,
and rested, and exercised,
and made art, and played games,
and learned new ways of being, and were still.
And listened more deeply. Some meditated, some prayed, some danced. Some met their shadows.
And the people began to think differently.

"And the people healed.
And in the absence of people living ignorant,
dangerous, mindless, and heartless ways,
the earth began to heal.

"And when the danger passed,
and the people joined together again,
they grieved for their losses, and made new choices,
and dreamed new images, and created new ways to live and heal the earth fully, as they had been healed."

— Kitty O'Meara (via Soul Alchemy)