Augustus- vakantie en meer
YOGAmetDICK is gesloten tot en met 15 augustus.
Vanaf 16 AUGUSTUS is er enkel les op maandag (16- 23- 30/8 en 6/9)
Vanaf 12 SEPTEMBER gaat het nieuwe seizoen van start met YOGA op het STRAND in Zandvoort aan zee.
Vanaf 13 SEPTEMBER is het rooster weer als vanouds:
maandag- en donderdagavond Vijnana Yoga
woensdagochtend Tensegrity/ Stress Relief

Rooster vanaf 16 augustus tm 6 september:
Maandag 19.30- 21.00uur Vijnana Yoga

YOGA op het strand
Het gaat gebeuren op de valreep van de zomer, dus hopelijk hebben we mooi weer, maar vooral zorg dat jij er bij bent! Geef je svp vantevoren op.
Lekker buiten yoga-en, het mag, het kan, er is ruimte genoeg om afstand van elkaar te houden en frisse lucht in overvloed. Je dag beginnen met je voeten in het zand, je blik op het water, de warmte van de zon op je huid en het ruisen van de zee op de achtergrond. Vijnana Yoga flow les, bewegen op het ritme van je adem omgeven door natuur. Een gevoel van vrijheid en eenheid met de elementen.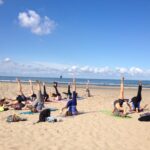 Locatie: Zandvoort aan Zee zuidstrand naast Havana aan zee
Datum: Zondag 12 september 2021
Tijd: 10.30-12.00 uur
Prijs: €18,-
Als je een mat hebt neem 'm mee of gebruik een handdoek
(leenmat +€1,- rsvp)
Aanmelden: info@dicklangenberg.com

CU on the mat!