*Tensegrity is een samenvoeging van tension (spanning) en integrity (integriteit). Het verwijst naar de integriteit van structuren gebaseerd op een evenwicht tussen trek- en drukbelastingen. Het lichaam en zijn bewegingen als tensegrity model; de botten zweven in een zee van zachte weefsels (bindweefsel) waarmee alles met elkaar verbonden is.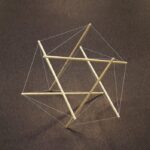 De Tensegrity- Sress Relief Yoga lessen bestaan uit een serie oefeningen in een rustige flow liggend op de grond. We werken aan ruimte en zachtheid in ons lichaam, stabiliteit in de gewrichten en vloeibare verbindingen rondom. De oefeningen zorgen voor meer eenheid in je lichaam. Door de bewegingen te herhalen kan je op een dieper niveau loslaten en diep van binnen voelen. Er is meer ruimte om je lichaam te ontspannen, in balans te brengen en te observeren.
Geschikt voor mensen met blessures of als je minder energie hebt of stress.
*Vijnana Yoga voor iedereen toegankelijk.  Tijdens de lessen komen de principes van Vijnana Yoga aan bod en wordt er per week een groep asana's (houdingen) behandeld. Daarnaast warming up, meditatie, ademhalingsoefeningen en ontspanning.